Neil Neumann, owner of Neumann Marking Solutions (NMS), and staff welcomed employees from the Epson LW department of K-Sun Corporation (a member of EPSON Group) in Nagano, Japan and Somerset, Wisconsin to our office in Edmonton, Alberta, on June 20th and 21st.
Why visit Edmonton, Alberta, Canada?
In short, Neumann Marking Solutions is a well-established, unique company with unique customers.
These gentlemen came to NMS to observe our business practices and see how we have found and nurtured success, first with K-Sun, and now with the Epson line of label and wire marker printers. Neumann Marking has been supplying identification systems for heavy industry since 1995 and has been instrumental in growing the K-Sun brand.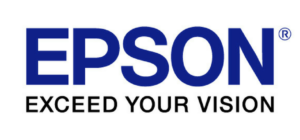 To grow the industrial labeling and wire marking market, Epson Corporation recently bought K-Sun Corporation (a member of Epson Group). K-Sun has nurtured a sizeable market in North America and has been able to expand globally with their products. Through this purchase, Epson and their LW department have gained goodwill and knowledge of industrial markets and products used. Epson will be further expanding on this growth.
Here in Oil Country, we have customers who are some of the world's most knowledgeable users of shrink tube and label printers! Basically, an ideal source of knowledge.
What did we do?
Voice of the Customer (VOC) Onsites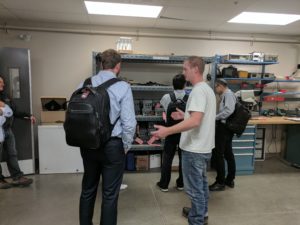 After a day of getting to know one another including everyone's various roles, day two was spent visiting NMS customers in the Energy, Utility and Datacom sectors.
The purpose of these meetings was to expose our Epson colleagues directly to the 'Voice of the Customer'. Epson is very keen on making sure that the products they are developing align with the needs and requirements of the end user so these onsite visits were very productive. The group got to chat first hand with the customers using the printers and the supplies and hear about what they like, dislike and what they would change. All great information for both NMS and the Epson teams.
Take Me Out to the Ballgame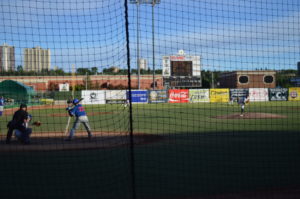 After a full day of client meetings, Neil Neumann and Wayne Dembicki of NMS joined the group to attend an Edmonton Prospects baseball game. Unfortunately, due to rain, the game was delayed and then cancelled. All was not lost though because we spent the rain delay time in the Neumann Marking Solutions box suite where we ate, drank, visited and shared photos of our families and homes from our phones. It was a satisfying end to the two days of meetings with our Epson guests.
With the whirlwind visit wrapped up, we had the opportunity to reflect on the part of labeling history we at NMS are influencing. The visit and meetings with Epson have been an acknowledgement of Neumann Marking Solutions professionalism and contributions. By listening to the customer, understanding their needs, and responding promptly, we are able to contribute to the future of marking solutions and the advancement of the industry.
Thank you Epson for this opportunity!
Want to know more about the Epson products we carry – visit our online site here.