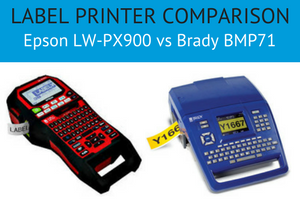 In part one of this three part series, we will discuss and compare two popular portable label printers aimed squarely at industrial users such as electricians, datacom/telecom installers and avionics technicians. This label printer comparison is between the Epson LW-PX900 and the Brady BMP71 which are both rugged, well made machines that print labels, heat shrink sleeves and various other media for specialized applications. Both Epson and Brady are international brands; Epson entering the industrial market through the acquisition of K-Sun Corporation and Brady being the incumbent dominating supplier for industrial identification products.
What to Consider for Your Portable Label Printer Purchase
Different printers are classified based on portability or if the printer needs to be tethered to a computer. If convenience is important, printers using label cartridges with self-contained ribbon and media are popular. Think about what you will use your printer for and how often you will use it to determine the right one for you.
PORTABLE LABEL PRINTERS
These printers offer flexibility in supplies (label tape, heat shrink tube and preprinted labels) but with the advantages of portability and mobility. Portable printers are used by field technicians for quick and easy supply changes and on-demand printing at the job site.
PRINT SPEEDS
How fast do you want to print? Portables, depending on product and brand, print from 6mm/second to 38mm/second.
CAPACITY
How much do you have to print? Many portable label printers use cartridges that contain the print ribbon and the label material while others use a cartridge for ribbon and another cartridge for media. Cartridge capacity varies by manufacturer but is typically 25 feet. Cartridges offer ease of use—simply drop them in and begin printing.
SUPPLIES
What do you want to print? Portable printers offer hundreds of colour combinations of ribbon and media in a multitude of label tape widths. Depending on the brand, the printer can print on label tape, heat shrink tube and other products for specialized applications.
DURABILITY OF LEGEND
How long must it last? Portable printers have ribbons and media combinations that will be readable and durable for weeks or years. You choose what will work best for your particular application.
EPSON LW-PX900 LABEL PRINTER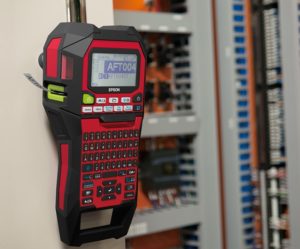 The Epson LW-PX900 has the highest print resolution and the smallest margins of any portable label printer on the market. It is also the easiest to operate right out of the box and does all jobs quickly and efficiently. The shape fits nicely in your hands for easy operation. Magnetic feet screw into the base for attaching the printer to your work area for hands free operation. The Drop-Stop feature prints a label and holds it until you remove it from the printer. These two features are worth the price alone. The printer is visible and readily accessible and the printed labels are where you need them.
Mix Length with Half Cut option is another game changer due to the time saved in creating a string of labels or job batch.
Bonus feature: all the PX cartridges from Epson are compatible with Epson LW-PX printers and K-Sun brand printers. PX cartridges contain the print ribbon and media to produce the best result and simplify the supplies required and time needed to change out cartridges.
For an in depth look at the Epson LW-PX900 Label Printer features, watch this quick demo video.
Brady BMP71 LABEL PRINTER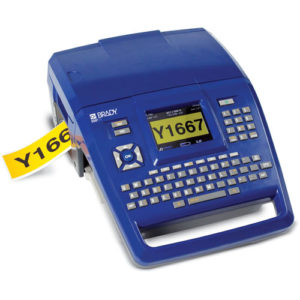 The Brady BMP71 has a full colour display and full sized keyboard and is considered portable because it operates from batteries however it is not a hand held printer. This unit has no extras like magnetic feet or free included software. What it does have is product. Brady is known for having a solution to every labeling problem and they do not disappoint. Something to keep in mind—when it comes time to buy something out of the ordinary, order in advance to avoid delivery delays or back-orders. This advice can also apply to ordinary inventory. With no stocking warehouse in Canada, all inventories come from multiple locations in the United States which can add additional delivery time.
The BMP71 comes loaded with built in wizards, templates and symbols and uses easy to load ribbon and label cartridges. The ribbon and media cartridges need to be installed separately and the BMP71 supplies, for the most part, are not compatible across the full line of Brady portable printers.  Note, there are some exceptions to the supply compatibility. For example, Brady does supply the BMP71 with a Media Adapter for using label roll supplies from the TLS2200 and HandiMark printers.
For an in depth look at the Brady BMP71 Label Printer features, watch this quick demo video.
Both printers offer rechargeable batteries and ship with an ac power adapter, hard sided case and some supplies to get you going.
Here is a side by side comparison of some of the most popular portable printer features:
Features
Epson LW-PX-900
Brady BMP71
Print Speed
35 mm/sec
38mm/sec
Margin Adjust
Yes
Yes
Mixed Length Label Strip
Yes
No
Heat Shrink Sizes
3, 5, 6, 10, 11, 14, 21mm (ID widths), Continuous lengths 2.43 m long
9 ID widths, 1" or 1.75" lengths,
100 pcs/cartridge
Heat Shrink Cartridge
Ribbon and media contained in one cartridge
Ribbon and media in separate cartridges
Label Tape Sizes
4, 6, 9, 12, 18, 24, 36 mm widths,
9.15 m long
12, 24, 48 mm widths,
15.24m long
Label Cartridge
Ribbon and media contained in one cartridge
Ribbon and media in separate cartridges
Warranty
Lifetime, exchange at dealer
2 year, send in to Brady directly
PC Connect
Yes
Yes
Auto Cut
Yes
No
QWERTY Keyboard
Yes (Texting Size)
Yes (Desktop Size)
Templates
Yes
Yes
Weight
1.26 kg
2.47 kg
Hand Held
Yes
No
Software OS
Win
Win
Resolution
360 dpi
300 dpi
Software Included
Yes, Label Editor Professional
No (Optional at extra cost)
Interface
USB
USB
Price CDN
$525.00
$999.00
In Summary
Both printers perform very well but if you need to move about, the smaller Epson LW-PX900 is your unit. If you are stationary and have room, the larger Brady BMP71 will satisfy your printing needs. Points go to Brady for offering solutions for every labeling problem, but keep in mind finding inventory can be an issue. The one cartridge design that fits every Epson LW-PX printer is super convenient so if you don't want to waste time in the field changing ribbon and media cartridges, the Epson may be a better choice for you.
Two additional features that make the EPSON the overall winner for us; lifetime warranty and price.
For additional information and video demos on the Epson LW-PX900 portable label printer…