The L3 label Applicator is a great new product built out of necessity, which is simple in appearance, simple in use but huge in safety and efficiency.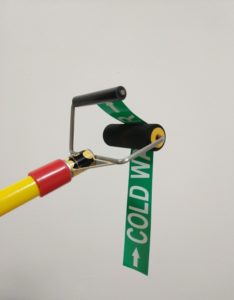 The main selling point of the L3 Label Applicator is it allows your workers to apply labels safely overhead right from the ground without the use of ladders, decreasing the chance of falls as well as speeding up the labeling process. With just over 40% of falls in the workplace resulting in death, the value of this tool speaks for itself.
Let's put it in perspective—let's say to apply a series of labels to a set of overhead pipes your ladder would need to be 5.18 meters tall and you would have to extend 2 meters to reach the pipe. The ladder weighs in at 18 kilograms compared to the L3 Label Applicator which weighs 2 kilograms.
Imagine your arms and legs after carrying the ladder and climbing up and down to install one label. Using a ladder of that height may also require a permit, another person as a spotter, tall ladder training, a safety harness or even a man lift. Now imagine using the L3 Label Applicator which allows you to keep your feet firmly planted on the ground while applying your labels. No ladder lugging or climbing, also speeding up the process of getting a section of pipes done quickly and efficiently.
Using the L3 Label Applicator is a simple three step process.
Print your label.
Peel the backing from the label and apply to the L3 applicator.
Roll the label on to the surface.
Watch this video to see the L3 Label Applicator in action, from label printing to applying.
Whether it is overhead duct work, piping, or conduit, the L3 applicator can be used to apply labels to it all. It doesn't matter if your label is 24mm wide or 100mm wide, the L3 applicator can handle it. With the optional extension, labels can be applied up to 7 meters off the floor, overhead or vertically.
As a leading provider of Identification Systems for Heavy Industry, the L3 Label Applicator makes a terrific companion piece to the printers and vinyl labels we sell. Whether you require a portable printer or a desktop unit or label materials for your printer, we can help. Here are some recommendations for label printers and labels that would work great with the L3 Label Applicator.
To stay in the know about great products such as this, remember to subscribe to our list. When we have special offers, new releases or informative articles and videos to share, you will receive it right in your inbox.