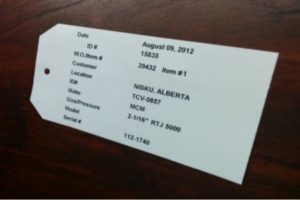 Pump and valve companies must identify valves that they service and repair. The industry demands that valve specifications be attached (and stay attached) to the equipment. These valve tags are exposed to extreme conditions therefore they must be durable.
Not to be confused with the small, round, brass tags that are commonly used by mechanical companies in commercial settings (which we also supply), we are talking about tags for the large valves used in oil pipelines and industrial plants. With tag information ranging from 10-20 lines, larger tags are needed.
The most durable tags are metal. Metal tags, however, are expensive and must be engraved. Purchasing an engraver starts at $10,0000—hardly justifiable for service information on valve tags. Not really a viable option.
Valve companies also don't outsource creating tags due to varying valve specs and the instant turnaround time required for producing tags. Fortunately, there are several ways to print tags in-house and on demand! Some are slow and some are fast.
Slow Process for Printing Valve Repair Tags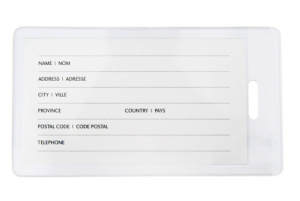 A common valve repair tag practice is using paper labels covered with a 2 ply plastic lamination. Picture clear plastic luggage tags with a
hole or slot.
Print, insert and laminate.
The SLOW process consists of:
Print off card tags from a laser or inkjet printer (usually 8 tags per sheet).
Tear/cut tags off and place back to back for 2-sided tag.
Have laminating machine ready with pre-made plastic luggage tags.
Insert cards, one at a time, into laminator (ensuring no overlap and visually straight).
Wait for lamination. Average laminating speed 6-9.8 inches per MINUTE.
Click here for a video of this slow process.
Fast Process for Printing Valve Repair Tags
Our quick and affordable solution for valve tag printing is with a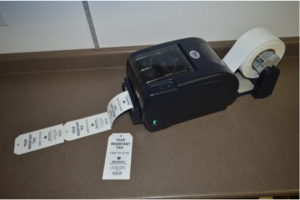 TSC 247VT Valve Tag Printer Kit. With this printer and a durable polyethylene roll, companies can quickly make tear resistant tags that will endure all weather temperatures and harsh UV rays.
Print (that's it, just print).
The FAST process consists of:
Open software. Create or open template file.
Make sure label printer is connected and loaded with durable tag roll.
Click print. Polyethylene tags print at 4-6 inches per SECOND.
Click here for a video of fast process.
The polyethylene tags can be made in any size required and pre-printed on one side. The most common size is 3"x 6" with a hole punched into each tag and perforation for easy separation. Neumann Marking Solutions also offers this material on continuous rolls, which allow the tags to be auto cut to any desired size.
If time and durability are important to your operation, contact us today at 1-800-268-7636 so we can help you eliminate the SLOW process.
For more information on the materials mentioned here, visit out online store.
For more information on the TSC TTP-247 Desktop Label Printer…
For more information on Polyethylene tags…