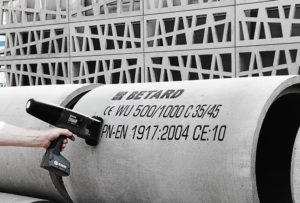 Stationary industrial inkjet printers, primarily used in marking production line products, have been around for quite a while producing messaging such as production/expiry dates, specifications or production numbers.
The portable inkjet printer was born out of the need for mobile printing in the yard, field or warehouse without the hindrance of a power cord. A perfect upgrade from traditional hand coding methods like stencil machines and roll coders, imagine a cordless drill but instead of the rotary drill, there are inkjet nozzles that can spray out your message of letters, numbers or barcodes. Ink is stored in a cartridge on the unit and pressurized to spray through the nozzles. Programming the unit for printing your message can be done on a PC and sent via Bluetooth, Wi-Fi, SD card, USB drive, USB cable, or in some instances, by using the touch screen on the unit itself.
That's not all – with these units you can print on almost any surface, porous or non-porous, including wood, concrete, metal, glass, plastic, fabric, foil and more—basically, anything that is dry. Coding is made easy with these handy, lightweight battery powered portable printers allowing you to print numbers, dates, times, text, logos and barcodes.
A Quick Synopsis
Three brands of portable inkjet printers, EBS, Anser and Reiner, are available. We had the ability to test out the EBS and the Anser but unfortunately, the Reiner was still in transit. Watch for a full review of the Reiner 940 in the future.
The Handjet EBS-260
This EBS inkjet printer offers the largest size print, can print left to right and vice versa as well as upside down and backwards, and is able to print on round surfaces, making it the most versatile. This is the unit you need if you are marking concrete, pipe, clothing or just about anything.
While the EBS-260 is the most expensive portable inkjet printer we sell, it is also the most popular. The HandJet EBS-260 printer offers the largest varieties of inks, with colours for a variety of substrates and the on-board touch screen display allows changes on the fly. Image height is adjustable from 7 mm to 56 mm and multiple lines can be printed at one time.
Watch this video for a more indepth look at the HandJet EBS-260 Portable Printer.
The Anser U2Mobile
With the ability to print 45 meters/minute at 600 DPI horizontal resolution, this unit is great for printing on flat and convex surfaces quickly and efficiently.
Anser's U2mobile inkjet printer is a compact, ultra-portable, lightweight and easy to operate unit. An innovative remote keypad makes it super efficient to do quick changes on the fly and the offline editor (included) is used for setting up your message. Simply transfer the file with the included SD card and you are printing. A maximum character height of 12.7 mm is enough for marking cartons, small shipping containers and most warehouse jobs. The lightweight balance of the unit and economical price contributes to this being a best seller. The ability to print on small diameter PVC pipe sets this apart from the EBS Handjet printer.
Watch this video to see the Anser U2Mobile in action.
The Reiner 940
The Reiner 940 inkjet printer has a maximum print area of 140 mm wide and 12.7 mm high and is the smallest and lightest of the three units. It is designed for quick, mobile marking on flat surfaces.
Ink cartridge capacity is 200 ml which prints approximately 200,000 7×5 dot-matrix characters. The addition of practical accessories maximizes the functionality of this unit. Print stabilizers, guide wheels, scanners, carry bags and holsters all complement the use of the Reiner 940 in the field.
We feel its compactness will make this unit a winner in production environments and a good fit for mobile and stationary applications.
Watch this video to learn more about the Reiner 940.
A Quick Comparison
| | | | |
| --- | --- | --- | --- |
| Features | HandJet EBS-260 | Anser U2Mobile | Reiner 940 |
| Print DPI/Nozzles | 32 vertical nozzles (jets) | 600 DPI | 300 DPI |
| Continuing Printing Hours | 16 | 7 | n/a |
| Max Print Height | 55.88 mm | 12.7 mm | 12.7 mm |
| Unit Weight | 1.66 kg with battery and cartridge | 1 kg excluding battery and cartridge | 530 gm |
| Variable Fields | Date, time, expiration date, symbols, logos, barcodes, ascending/descending sequential numbers, universal counter | Date, time, expiration date, logos, barcodes, shift code, counter | Date, time, logos,  dating & non-dating barcodes, automatic sequential numbering |
| Ink | Ethanol, acetone or MEK based ink in various colours | Wide range of ink selections for porous, semi-porous and non-porous substrates | MP ink for printing on smooth surfaces such as metal and plastic |
| Data Sheets | HandJet EBS-260 Brochure | Anser U2Mobile Brochure | Reiner 940 Brochure |
For more information on these portable inkjet printers, visit out online store.
Still not sure which printer is right for your organization?—call us toll free at 1-800-268-7636 to talk to one of our experts.
Want to be the first to know about great products such as these portable inkjet printers? Join our mailing list.