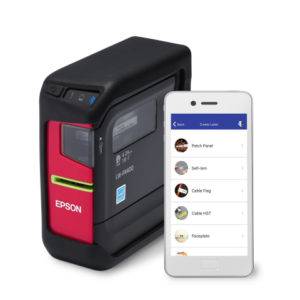 In September, Epson announced the release of their new Datacom app available for Android and iOS devices, free of charge via the Google Play or Apple App stores.
This app was developed to support contractors in the datacom, telecom and cable installation industry who use iOS and/or Android devices on the job. The Datacom app comes preloaded with label templates for patch panels, self laminating wire wraps, cable wraps, faceplates and cable flag labels. All app-based label templates support the TIA-606-B industry labeling standard, providing a convenient way for users to align the labeling of their network hardware to specification.
It also integrates with Fluke Networks' LinkWare LiveTM, the industry's leading cloud-based solution for managing cable certification projects. Via the Datacom app, Flukes' LinkWare Live cloud-based data files can be easily accessed so onsite workers can immediately print labels, heat shrink sleeves and self-laminating wraps for any project, eliminating additional data entry on the job site.
How LinkWare Live works with the Datacom App
The systems designer uses CAD to plan the network infrastructure and then uploads the Cable ID Set/s to LinkWare Live (Fluke Networks Cabling Certification Tester and Report Management Program).
The contractor downloads and installs the Epson Datacom app to their Android or IOS device and then connects it via bluetooth to the Epson LW-PX400 Portable Label Printer.
The contractor signs into LinkWare Live through the Datcom app on their smartphone and locates the project.
The contractor is now able to print wire markers and labels directly from their LinkWare Live project files to the Epson LW-PX400 industrial label printer, a portable battery powered printer that creates high quality, standard compliant labels, heat shrink sleeves and self-laminating wraps.
The Fluke Networks site has a great 'how to' on using this app as well.
The Datacom app was created for use with the Epson LW-PX400 portable label and heat shrink printer. With this new app, accuracy and consistency are ensured on site with labeling produced as designed and installed.
Watch this video to learn more about the Epson LW-PX400 Printer, Datacom App and Fluke LiveWare Integration.
The Epson LabelWorks LW-PX400 Portable Label Printer
The recently released Epson LW-PX400 is a small, fully featured portable industrial label printer. Created for heavy industry professionals for use onsite, the LW-PX400 features wireless connectivity and compatibility with over 160 cartridge based supplies including industrial label tapes, heat shrink sleeves, self-laminating wraps and magnetic tape.
In Summary
The Epson Datacom app makes the most of the latest developments in cabling certification testing technology and mobile printing capabilities to deliver outstanding efficiency and accuracy to the cable ID and labeling process. IT technicians and cable installers can now, with a click of a button, access project Cable ID Sets right from their smartphone reducing onsite data entry time. Need to print something on the fly? No problem, the templates provided by the Datacom app gives you several options to choose from.
If you are interested in making your cable installers lives easier with these new Epson products, visit our site here or give us a call at 1-800-268-7636 where one of our industrial identification experts can answer any questions and provide you with a quote.