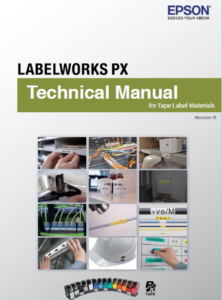 A technical manual for Epson PX label tapes and heat shrink sleeves recently landed in my inbox. I wasn't sure what to expect when I opened it up but it turns out, there is quite a bit of interesting information in this tech manual.
Besides the usual data of tape width, colour combinations and labeling materials, there is some great stuff about the label structure itself. For example, did you know the backing paper (what you peel off the label back to expose the adhesive on the label tape) is 75 microns thick and the thickness of the lettering, coated surface, base film, coloured label and adhesive is 70 microns? This makes the entire thickness of the label and backing paper 145 microns! The diameter of a human hair is commonly averaged at 75 microns. Amazing what is layered in that super thin label.

The tech manual then goes on to addresses how Epson LabelWorks variety of tapes are tested for several environments.
EPSON defines their tape types as:
LABELS: Standard
LABELS: Heat resistant
LABELS: Heat shrink tube
LABELS: Magnetic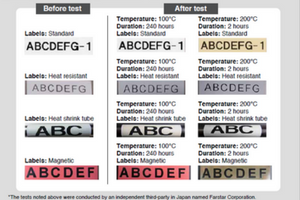 They use real world examples of tape use for their testing. This includes temperature resistance, adhesion, curved surface adhesion, water and chemical resistance, abrasion, weather and flex resistance. Details of how each test is conducted, the test results, and before and after photographs of the labels are also shown.
The guide is then rounded out with a series of Frequently Asked Questions which provides some great information. We know because we often get some of these questions ourselves from our customers!
In closing, EPSON states:
Better Products for a Better Future.
At EPSON, we know that planning for the future requires a strong commitment to the environment. That is why we strive to create innovative products that are reliable, recyclable, and energy efficient. Better products that use fewer resources help ensure a better future for us all.
Epson is one of the number one suppliers of label printers and printer supplies that Neumann Marking Solutions sells and it is easy to see why when reviewing a guide such as this. It is clear that they care about the quality of products that they make and that they want to provide their customers with the best product experience possible.
If you are a user of Epson tapes, or you are considering purchasing an Epson label printer, this technical manual is for you!
Read the FULL EPSON LabelWorks PX Technical Tape Manual here.
To find out more about the Epson products we carry, visit our online store here.
Wayne Dembicki – General Manager