Case Study
A Better Tag Solution for Valve Repair Companies
Technicians at a valve repair shop approached Tammy Sullivan at Neumann Marking Solutions for an industrial identification solution for displaying information about repaired valves. This information needed to include the customer name, work done to service the valve, the date the work was completed and any additional details required by the customer. This information could also be encoded as a standard or 2D barcode. Due to the nature of the valves and where the tags were going to be used, these industrial tags needed to be resistant to ripping as well as all weather conditions.
The Challenge
Their existing valve repair tag printing system was done in a couple of different ways, both
inefficient and time consuming.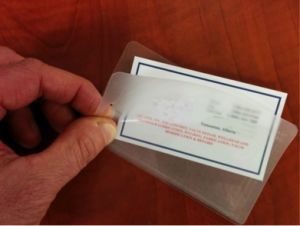 Printing a label to stick on a paper tag with a grommet and then laminate it for outdoor protection.
Printing tag information on a 8.5″ x 11″ piece of paper and then cutting it to size to place in a plastic luggage tag to be run through a laminator.
Both of these systems were very cumbersome and resulted in many hours wasted.
To learn more about the slow vs. fast way of producing pump and valve repair tags, check out our blog post,  How to Make Durable Valve Repair Tags Quickly and Affordably.
The Solution
Tammy supplied the customer with samples  of non-rip tags with a pre-punched holes for easy installation for testing. These tags were printed on a thermal transfer desktop label printer using a continuous roll that comes with perforations so the tags can be easily separated after printing without the use of scissors or a  cutter.
To test durability, during his vacation, the customer attached a printed, non-rip tag on the aerial of his truck and drove from Ottawa to Alberta. At the end of the road trip, the tag was intact and readable! He also went so far as to test the tags for resin ribbon image quality with numerous chemical baths.
With the tags passing all tests with flying colours and the customer went on to purchase 7 thermal tag printers and numerous rolls of tags to identify pump and valve repairs in all of their locations.
Watch this video to see a quick demo of how easy it is to print valve tags using the TSC 247VT Valve Tag Printer.
If you want to get started printing valve repair tags on-demand with a thermal transfer label printer, visit our online store.